Intro
It is a standardised way of tracking your code and analyses (plus history thereof).
Mrshu says that it's a good idea to learn Git, because it:

Helps avoid "versioning hell" (you know, files like essay.doc, essay_v2.doc, essay_final.doc)
Gives you the ability to "jump in time"
Helps you make your work "reproducible"
Makes it a bit more straightforward to work on common (larger) projects with others

And don't forget that Git != GitHub != GitLab. Git is the technology that powers GitHub and GitLab who are "web frontends" and business who added things like pull requests.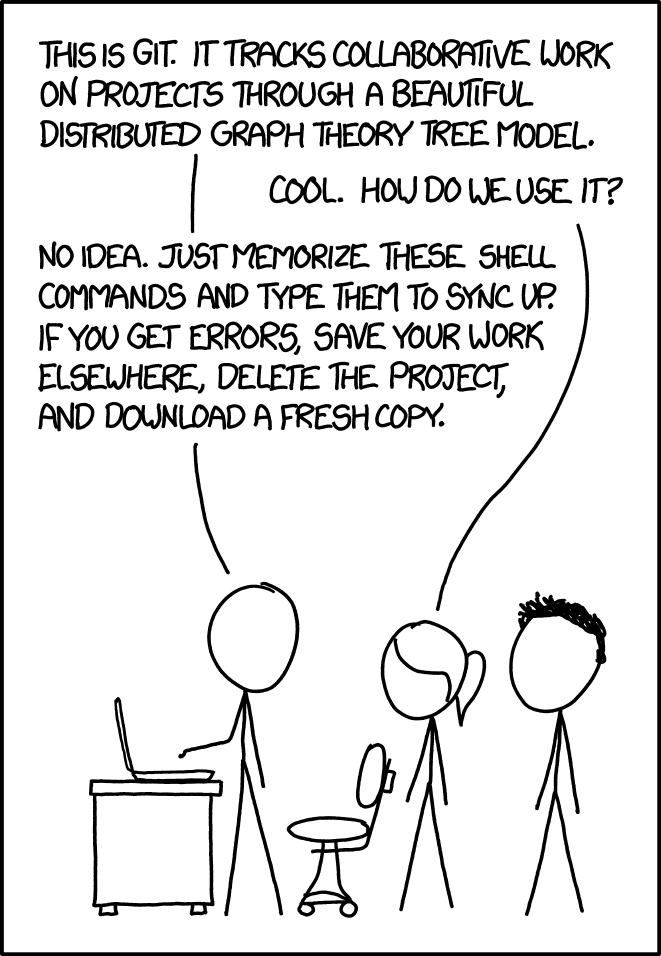 Learn
Snippets
When anything goes wrong, these code snippets come particularly handy; alternatively these from CIA.

Make .gitignore ignore the files that were committed before added into the file:
$ 

git 

rm

 

-r

 

--cached

 

.




$ 

git add 

.




$ 

git commit 

-m

 

".gitignore is now working"



Create repo from scratch through this init.sh script, based on this, which can be run through sh init.sh repo-name from directory (or better still ./init.sh repo-name if you run chmod u+x init.sh first):
#!/bin/zsh





mkdir

 

$1




cd

 

$1





if

 

[

 

"

$2

"

 

=

 

"--p"

 

]

 

;

 

then
    

python3 

-m

 venv .venv
	

source

 .venv/bin/activate


fi



git init
gh repo create 

$1


git pull origin main 

--rebase




touch 

README.md
atom ./

See your log of changes in a nice format:

git log 

--pretty

=

oneline


# or


git log 

--oneline

 

--decorate

 

--graph

 

--all




Copy-paste commits from one branch to another:
Print some nice stats about your changes

git diff main...origin/your-branch | diffstat 

-Cm


git diff master 00aa0157f23f50151f74e4ba203deb8f11621946 

.

 | diffstat 

-Cm




Get stats for commits per person per month

git log 

--pretty

=

format:

"%h,%aN,%ad"

 

--date

=

format:

'%Y/%m'

 | 

awk

 

-F

, 

'{print $2","$3}'

 | 

sort

 | 

uniq

 

-c

 | 

awk

 

'{print $3","$2","$1}'

 

>

 output.csv


Save your work for later

git stash 

# stash all files


git stash push 

-m

 

"message"

 

[

file] 

# stash file with message


git stash list 

# check stashed files


git stash apply stash@

{

0

}

 

# apply the changes


git stash drop stash@

{

0

}

 

# delete stashes



Links